Finally a super efficient dryer - I wondered why it was talking forever,
but as you will see reading this story
- good things always come to the USA Last.
This is really what's needed before one switches to solar
Your Next Fridge Will Be More Efficient. Here's Why.
Tighter standards have manufacturers designing all-new fridges. But does it matter to consumers?
You've probably heard of Energy Star—the program launched by the U.S. government to incentivize efficiency in product design. Created by the Environmental Protection Agency in 1992, the voluntary program awards attention-grabbing yellow "badges" to products that meet certain efficiency standards.
The Energy Star badge goes one step beyond the federal minimum efficiency standards established by the Department of Energy in 1975. And while it's considered voluntary, the marketing advantage Energy Star provides is such that the vast majority of products meet the program's requirements.
Along with the federal minimum standards, Energy Star has helped improve efficiency performance across more than 60 product categories. In 1993, the year after the program launched, American homes consumed an average of 103.6 million BTUs of energy, according to the
Energy Information Administration
. By 2009, that figure had dropped to 89.6 million BTUs—a 14 percent decrease in energy consumption per household.
Of course, there are more housing units today than there were in 1993—about 17 million more. That surge in housing forced a 2 percent net increase in residential energy consumption. However, if household energy consumption remained at its 1993 levels, there would have been an 18 percent increase in total residential energy usage.
Clearly, these numbers support the existence of both federal efficiency standards and the Energy Star program. The marketing advantage for manufacturers is also clear. Among fridges, roughly 80 percent are now Energy Star qualified.
Among fridges, roughly 80 percent are now Energy Star qualified.
However, there has always been some back-and-forth between the industry, the government, and private efficiency advocates over the proper specifications for these programs.
Starting this September, residential refrigerators will have to meet a
new set of efficiency requirements
for both Energy Star and the Department of Energy's federal minimums—the latter of which is obligatory. This has sent manufacturers scrambling to bring more efficient fridges to market, causing confusion among producers and consumers alike.
---
Why refrigerators?
Fridges are a unique category: They run 24 hours a day, and are generally considered an indispensible part of a modern home. They're also one of the most energy-intensive products in the home. And over the past few decades, their efficiency has skyrocketed.
So why is the EPA upgrading fridge standards now? Why not focus on more wasteful products like ovens and dryers? Aren't fridges efficient enough? Are these new rules… excessive?
It's certainly true that modern refrigerators are staggeringly more efficient than models produced in the 1970's and 80's—in some cases by up to 75 percent. The Energy Star requirements set to go into effect this September stipulate that a 28-cubic-foot fridge may not exceed 403.82 kWh per year. If you compare that with the average annual energy consumption of a fridge in 1980—roughly 1,250 kWh/year—you can see how great the improvement has been.
Even a new Energy Star–labeled fridge consumes more energy per year than the average citizen of Ghana.
But these statistics are a bit misleading, if only because of how darn wasteful older machines were. Even with the
new Energy Star requirements
, the refrigerator itself is one of the most energy-intensive products in the home, perhaps second only to the air conditioner.
Fridges make up roughly 5 percent of an average U.S. home's total energy consumption, according to EIA data, and even a new Energy Star–labeled fridge—which improves 10 percent on previous generations—consumes more energy per year than the
average citizen of Ghana
.
"Ten percent may not seem like a big number," says Ann Bailey, product labeling branch chief for Energy Star. "But when you look at what that means across all of the sales, when all refrigerators have met those requirements, the difference amounts to the equivalent of taking one million cars off the road—and $890 million in energy savings."
"The difference amounts to the equivalent of taking one million cars off the road—and $890 million in energy savings."
Earl F. Jones, senior counsel for GE Appliance and Lighting, agrees. While acknowledging that Energy Star is hardly a "voluntary" program due to the economic realities of the market, Jones points out that the average increase in efficiency from the 2001 standards to 2014 is 30 percent. And that's just the DOE-regulated minimum requirements.
"Thirty percent savings in a refrigerator is very significant," he says. "Plus, remember this is a product that's on 24/7. The potential for savings is more significant than [...] products where you're also getting new standards next year, but your use of them is intermittent."
---
Why now?
So despite being considerably more efficient than in the past, fridges are among the most important of household appliances. But the questions remains: Why now? Why implement new DOE standards and Energy Star requirements at the same time? According to Bailey, the changes have more to do with seizing an opportunity than foisting regulations on an unprepared industry.
"We've heard very strong encouragement from the industry to align the timing, because the federal test procedure was also changing," Bailey explains. "So there was an opportunity to minimize confusion about which test procedure was being used for which program."
But what about consumers? Surely the frantic need to upgrade fridge technology is going to result in higher retail prices. One also has to ask how much fridge performance is being sacrificed in favor of efficiency.
GE's Jones acknowledges this question and raises a few others.
"The government is supposed to take into consideration a few issues," he says. "One: Can consumers get their money back [as a result of] the increased cost of product? Two: Can the manufacturers afford the investment that's going to be required to make these changes? And three: Is the solution that we're coming up with technologically feasible?"
According to Bailey, the government is not simply looking at what's possible and establishing that as the goal. Nor is it neglectful of performance considerations when establishing standards.
"The way we operate is we look at what's currently available on the market, or shortly going to be available, and then we set our levels so that the ones that earn the Energy Star [...] will get a competitive advantage," she points out.
"It is expressly an intention of our program not to set the levels so aggressively that it would result in performance problems," she adds. "And this is part of the back-and-forth when we're considering different levels that we engage the industry on."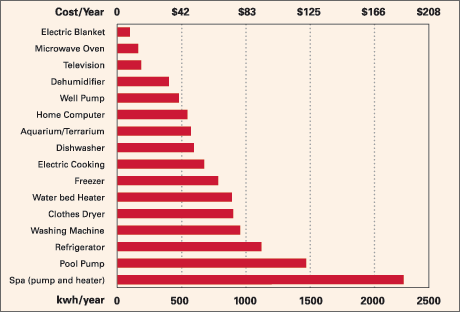 Part of that back-and-forth means providing manufacturers with ample time to upgrade their products. The new Energy Star requirements, for example, were announced in April of last year, yet won't go into effect until September 2014. Accordingly, fridge makers like Samsung and GE have already brought 2014 Energy Star-eligible fridges to market. Two of those models (the
GE Profile PFE29PSDSS
and
GE Cafe CFE29TSDSS
) won Reviewed.com
Best of Year Awards
for 2013.